Held
*Unlike other manufacturers Held does not pay professional racers or personalities to wear or endorse their products. They don't have to.

Held gloves are European handcrafted from state-of-the-art protective materials: Kangaroo and Stingray leather for abrasion, Kevlar for durability, Nomex underlaid rivets for heat resistance, Dupont Cordura and Gore-Tex for breathable water repellency. Sewn-in pre-curve is standard. These are no throw-away gloves. Just ask professional racers like Jason Pridmore*, Chuck Sorensen* and Richard Alexander* who wear their Held gloves to work every day.

Why kangaroo leathers palms?
Testing by the PFI Pirmasens Institute Germany shows kangaroo leather to be up to 80% more durable than regular cowhide. In addition its relative thinness provides unsurpassed road feel and control.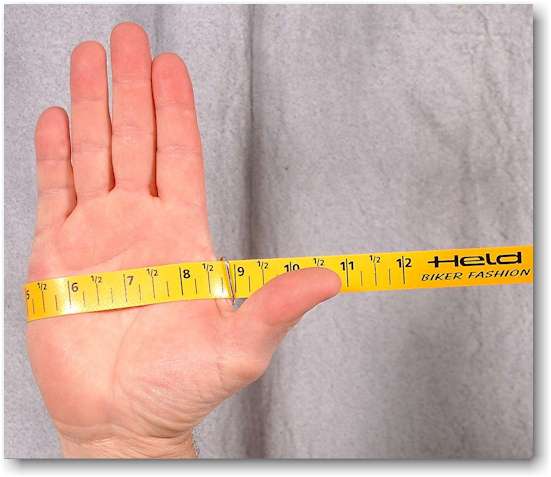 Sizing
Held numerical sizing corresponds to inch measurements done as follows. Keep your hand as wide and flat as possible with the thumb sticking straight out. Wind a flexible measuring tape around the widest part of your hand, below the knuckles, not including your thumb. The photo shows an example of a size 9 hand. Never order smaller than your measured size. If between sizes choose the larger. Held gloves are cut to fit snug when new with few wrinkles and little crumpling in the palm area.
FREE SHIPPING U.S./CANADA* ON ALL HELD GLOVES
*Some Canadian far eastern/western provinces and rural areas may accrue shipping charges. You will be contacted prior to account being charged.

---
Showing 1 to 5 of 5 (1 Pages)